After back-to-back 400-yard passing games in relief of starter Jonathon Jennings, it's clear veteran QB Travis Lulay understands where his best match-ups lay on the football field.
One week after picking apart a young and inexperienced Hamilton Tiger-Cats secondary, Lulay again took it to a plethora of rookie defensive backs in week five on route to a 404-yard passing performance against the Winnipeg Blue Bombers. Friday's game was unlike anything witnessed in awhile in the CFL, as an offense completely avoided a star-studded boundary and instead assaulted the opposite side of the field. It became quickly evident that Lulay and offensive coordinator Khari Jones had come prepared with a gameplan to take advantage of rookie field-side defensive backs Brandon Alexander, Roc Carmichael and Brian Walker.
And it worked.
Stud boundary defenders Chris Randle and TJ Heath were targeted merely a combined four times, which is a season-low for both the 2016 and 2017 seasons, by a team that attacks the short-side of the field more frequently than most offenses. Instead, Lulay and the offense took their shots at field-side halfback Roc Carmichael and field-side cornerback Brian Walker, who each had 7 a whopping seven targets, while strong-side linebacker Brandon Alexander was tested three times himself.
Despite defensive coordinator Richie Hall's efforts to protect his first-year defenders, without Maurice Leggett's veteran presence on the field to communicate and align his side of the secondary, the Bomber secondary's inexperience was exploited. The Lions made big play after big play – they had five 20-plus-yard passing plays – and in the end it amounted to 45 points on the scoreboard. While Carmichael seems to be the consensus scapegoat for Bomber fans, it was actually Walker who made more crucial errors that Lulay was able to exploit.
Although he played the flats more often in the second-half as a halftime adjustment from Richie Hall to prohibit Lulay from throwing it out wide underneath the coverage for an easy 6-8 yards, as the field-cornerback Walker was often tasked with retreating into a deep-zone as part of a base cover-4 coverage. The Lions were able to flood Walker's quarter-zone and exploit his inexperience for a number of big plays in the first half.
Brian Burnham's second monster catch of the game came as a result of an error from the Central Florida product. Lulay caught Walker (#22) cheating too far inside towards a clear-out route and spotted the ball to Burnham's corner-route.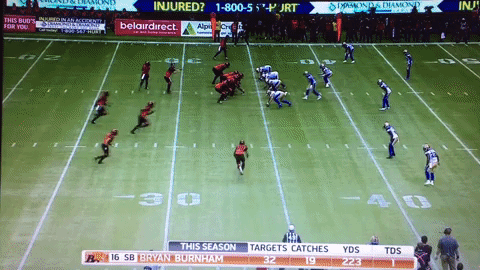 On a second-&-8 from their own side of the field, BC had four receivers to the wide-side (quads formation) and the Bombers were in a cover-4 coverage with the boundary corner, boundary halfback, free safety and field corner dropping deep, while all three linebackers as well as the field halfback played underneath coverage. BC's play-call wanted to expose the zone between Carmichael's curl-to-flat and Walker's deep-fourth.
Walker's no. 1 job is to protect against the corner-route here, but because he failed to realize that with coverage rolling over, Loffler (#16) would have picked up F's seam and Heath (#23) had Z's post, he became too weary of F's seam and was a half-second late to Burnham (Y) coming underneath.
Walked found himself making a similar error late in the second quarter when Lulay had a verticles concept to the wide-side and found Z-WR Danny Vandervoort alone by the sidelines for a 25-yard completion and the first catch of the McMaster product's career.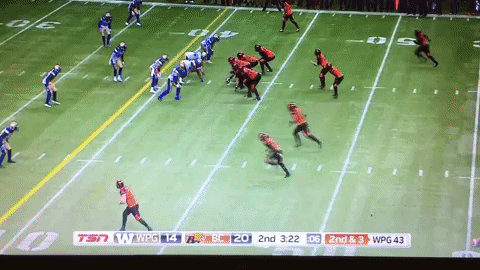 Again, Walker failed to realize he had inside help with Loffler and Heath. He came too far inside following F's seam-route, allowing Vandervoort to simply sit down near the sidelines – far enough downfield so that he was over top Carmichael's curl-to-flat zone – and haul in the rifle from Lulay.
In retrospect, Walker should have passed the F-SB to Loffler (#16) while Alexander (#21), who's playing wall-off technique – i.e. picking up whichever receiver from the trips formation comes across the middle – takes the Y-SB's route with help from Heath (#23). This coverage was executed nicely with the exception of Walker – and Lulay recognized this.
Walker isn't solely to blame, however. Carmichael, who allowed three receptions for 63 yards – which could have been more if not for two key drops – struggled mightily in man-coverage, getting beat for a 10-yard TD from Emmanuel Arceneaux as well as a 45-yard gain down the seam from Burnham.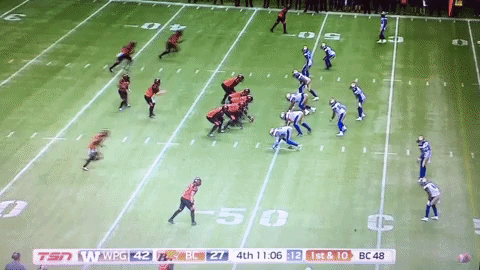 A lot of blame has been put on the shoulders of Richie Hall, but I saw Hall's coverages evolve and adjust as the game flowed on. Hall sent pressures from different areas of the field, dabbled in man-coverage and played all types of zone defenses. Unfortunately, the Bombers' rookie defensive backs made too many mental errors, while the Lions' receivers also made several terrific receptions. Considering how dominant Randle and Heath have been in the boundary, though, the Bombers' secondary should find its groove when Leggett returns to health at SAM linebacker and Bruce Johnson returns from the 6-game injured list at field halfback.
There are a lot of lessons to be learned from Friday's game film for the Bombers' rookies in the field-side. They have an opportunity next week against a mediocre offense in the Montreal Alouettes to put forth what they learned in an aerial assault from Travis Lulay and the BC Lions, and a bounce-back game will be needed.