Every year there's an NCAA Division II prospect whose name does not surface until the middle of the draft process. Last year it was Grant Valley State offensive lineman Brandon Revenberg, who went third overall to the Hamilton Tiger-Cats. This year it's Henderson State defensive back Dondre Wright, who, similarly to Revenberg, was not ranked in the September and December scouting bureaus.
Wright began his collegiate football career at the New Mexico Military Institute before becoming a two-year starter at Henderson State. He played a unique role in the Reddies' defense, seeing time at strong safety (his primary position), nickel corner and even some strong-side linebacker. I project him as a free safety in the CFL.
Positives
Wright is the best run defender out of all the defensive backs in the 2017 draft class. He's physical at the point of attack and has the strength to stack blockers when setting the edge, ultimately forcing the play back inside. He has good vision when engaged in blocks, keeping his eyes on the ball-carrier and positioning himself accordingly.
Wright rarely makes blatant mental mistakes. He reads his run keys well and reacts as he's coached to. From attacking the outside shoulder of a pulling offensive lineman, or defending the triple option, as the below GIF shows, Wright is clearly a smart, instinctive player.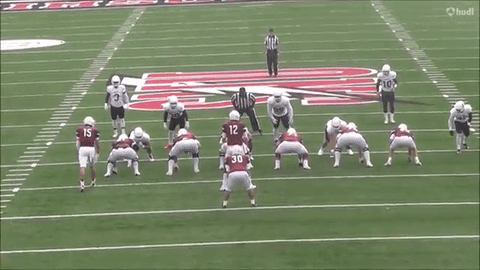 Wright certainly does not lack physicality. He comes down hill like a heat-seeking missile while still flashing fundamental tackling skills. Wright has a good, solid frame at 199-lbs at merely 5'10.2″, and runs well enough to play numerous positions on defense and special-teams. Wright tested quite well with a 4.618 40-yard dash, and showed his explosiveness with a 4.06 short-shuttle time.
Negatives
Wright will be a free safety in the CFL. While playing 12-15 yards back and reading and reacting suits his skill-set better, Wright also lacks some of the fundamental man-coverage skills. The native of Ajax, ON can be awfully grabby at the top of routes – especially in trail technique – and can also get caught looking at the upper-body of receivers rather than their hips.
Wright also lacks in the ball-skills department. He has good hands, but routinely fails to get his head around to locate the ball. As a free safety, this can result in a lot of missed interceptions as well as pass interference penalties for running through the receiver. He needs work turning his head back to the quarterback and punching his hand in the air while legally maintaining control of the receiver.
Though he was dynamic playmaker underneath, Wright has limited experience as a center-fielder. To go along with this, Wright seldom had to perform common hip turns as a free safety, such as completely opening up and flipping his hips from one side to another when the ball is released to a different area of the field. As mentioned, though, he's a smart football player that will adapt with pro coaching, but there may be a learning curve.
Bottom Line
Wright is the best defensive back in the class. He's going to be an instinctive, hard-hitting free safety with plus run defense skills. Wright needs some seasoning before jumping into a starting role, but will dominate on special-teams in the meantime. Wright would be a good value pick in the late-first, early-second round ballpark.